Frequently Asked Questions
Most frequently asked questions
Which training topics does your platform cover?
Training courses cover topics such as:
| | |
| --- | --- |
| Governance, Risk, and Compliance | Business Resilience and Disaster Recovery |
| Software Development Security and Maintenance | Network and Communications Security |
| Identity and Access Management | Physical and Environmental Security |
| Security Operations | Security Design and Architecture |
| Cloud Security | Operations Technology (OT) and Internet of Things (IoT) Security |
| Digital Forensics | Data Protection and Privacy |
| PKI and Cryptography | Malicious Code and Application Attacks |
Who should take this training?
The training is for any student, employee, or individual who wants to enhance their skillset, better understand the most common cyber risks, and what they can do to protect themselves and their organizations.
Is a certification of completion available?
Yes, a certificate of completion can be downloaded as a PDF once the training is completed.
What is the cost of membership to this platform?
Our platform is completely free of cost and does not require any payment.
Is the training content developed by Cyber Yogi?
The training content is freely available on the World Wide Web. We have consolidated and structured it and will provide guidance to students for going through it. However, in future, it is possible that Cyber Yogi creates its own training content
Am I required to learn coding for a job in cyber security?
There are various verticals/domains in the world of cyber security. While coding skills are important for some of the domains, but it is not necessary for majority of the domains and for building a career in cyber.
Which job roles can I take over after training from Cyber Yogi?
Application security analyst, compliance analyst, cyber security consultant, SOC analyst, identity and access management analyst, junior penetration tester, network security analyst, are just some of the job roles that our students can potentially take over.
Which companies can I work in?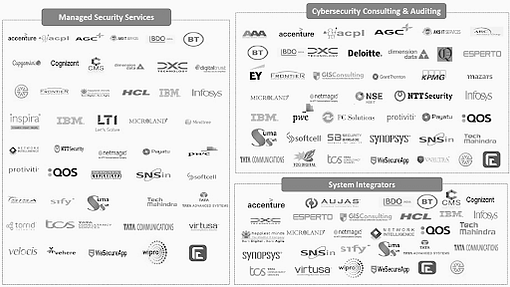 Some of the companies you could potentially be working with include
What is the type of internship or project I can do through cyber yogi?
The type of projects and internships you could be doing with reputed companies varies widely, depends on many factors, and encompasses all aspects of the cyber security domain. Some of these could include topics such as security audits, ethical hacking, cyber law, regulatory compliance, secure code reviews, vulnerability assessment and penetration testing, web application testing, security operations, cyber supply chain management, amongst various others.